OLD ORIENTAL CARPET
SMALL RUGS Page 2
HERE YOU WILL FIND smaller size piled rugs with sizes up to 180cms. or 6ft. in length with varying widths.
Please send any questions or enquiries to me at ldrowcroft@gmail.com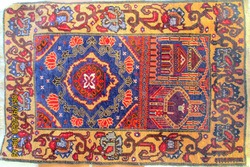 BELOUCH/BALOUCH PRAYER RUG which is a fairly recent piece from the Belouch in north west Afghanistan. The bright and spontanious colors are completely different from the traditional Belouch designs which are mostly dark and sombre. Portrayals of the mosque and many floral forms are scattered through the field. Reference 3301. Size 137 x 94 cms., or 4ft. 6ins. x 3ft. Euros 120.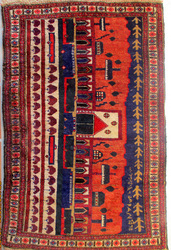 AFGHAN PICTORIAL RUG, probably woven by Balouch weavers in north west Afghanistan and it depicts the conflict that country endured under the Soviet invasion of the 1980s. The building in the centre depicts the front of the main mosque in the city of Herat. Overhead is a flight of jet fighters and a curious inscription. In front there are rows of fruit trees and a parking area for the long distance buses which are the mainstay of Afghan public transport. Curiously I was in the North West Frontier region several times during the war years and saw many Mujahadeen groups leaving for the conflict. Their success was evident by the amount of plundered Soviet arms and goods available in the bazaar shortly after their return. A similar rug to this was exhibited at the showing of what is known as Afghan War Rugs at the Miami University Art Museum in September 2007. Reference 3302. Size 131 x 88 cms., or 4ft. 10ins. x 3ft. Euros 180.