OLD ORIENTAL CARPET
SMALL RUGS 2
HERE YOU WILL FIND smaller size piled rugs with sizes up to 180cms. or 6ft. in length with varying widths.
Please send any questions or enquiries to me at ldrowcroft@gmail.com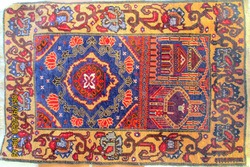 BELOUCH/BALOUCH PRAYER RUG which is a fairly recent piece from the Belouch in north west Afghanistan. The bright and spontanious colors are completely different from the traditional Belouch designs which are mostly dark and sombre. Portrayals of the mosque and many floral forms are scattered through the field. Reference 3301. Size 137 x 94 cms., or 4ft. 6ins. x 3ft. Euros 120.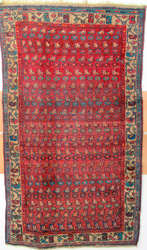 OLD RUG FROM MEHRABAN IN THE HAMADAN REGION which is very tightly woven on fine cotton warps. The weave pattern is virtually identical to a rug featured in the excellent text book "Hamadan" by P. J. Wilborg which is described as being north west Mehreban (or possibly Khamseh). Several additional factors such as the brown woollen wefts and end finishes also point to Mehraban. The design is clearly influenced by the nearby Kurds and consists of two of the three components of the Herati design, the acanthus leaf and rose flower head, which have been used throughout the field. The madder colour in the field has fourteen different bands of slightly different shades, known as abrash. Reference 3317. Size 174 x 101 cms., or 5ft. 9ins. x 3ft. 4ins. Euros 285.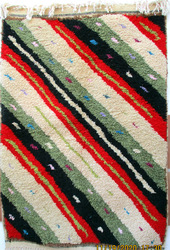 MOROCCAN BERBER HIGH ATLAS RUG from the eastern part of this mountain range near the small town of Azilal. Little weaving is done in the town but it acts as a gathering point for rugs from hundreds of surrounding villages. This is modern, in perfect condition, and has an attractive overall autumn colour combination which will enhance most decorative schemes. Reference 3318. Size 124 x 96 cms., or 4 x 3 ft. Euros 145.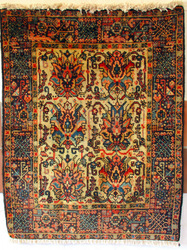 KARADJA RUG which is very unusual. It is old but in perfect condition with full glossy pile and original ends and sides. The weave on the reverse confirms that this rug is from the region the small town of Karadja and the border design is the same as is used on most Karadja pieces. An Iranian expert has placed the rug as probably being woven in the once prosperous nearby village of Qizapan decades ago. The village has now declined and the 2006 census shows it had 25 families and 92 inhabitants. The designs in the field consist of a lily flower, cut into half to show all the leaves and flowers. This is a classic "Shah Abbass" design, hundreds of years old and typically found in fine Persian city rugs. Reference 3321. Size 150 x 115 cms., or approximately 5 x 4 ft. Euros 565.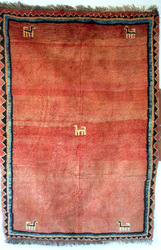 GABBEH RUG FROM THE ZAGROS AREA OF SOUTH WEST PERSIA which was woven by Lurs. It is a simple portrayal of four goats spread out in a vast area. The soft abrashed shades and deep pile make a pleasing addition to a simple decorative style. Reference 3329. Size 181 x 123 cms., or 6 x 4 ft. Euros 180.