OLD ORIENTAL CARPET
LARGE CARPETS 2
HERE YOU WILL FIND carpets longer than 275cms. or 9ft. Widths will vary.
Please send any questions or enquiries to me at ldrowcroft@gmail.com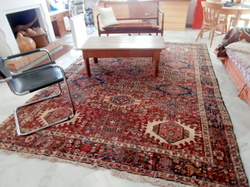 KARADJA CARPET - a soft, supple and mellow piece from the first half of the 20th century which is in excellent condition, complete with original ends The design and colours are typical and have a pleasing autumn shade overall. Reference 2971. Size 332 x 222 cms., or 11ft. x 7ft. 5ins. Euros 650.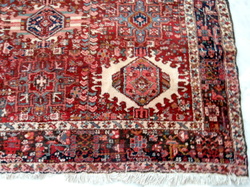 CLOSE UP OF THE TOP LEFT HAND BORDER AREA which shows some of the traditional designs which have been used for over a hundred years in Karadja rugs, carpets and runners. The border work has stylized flowers, trees and shrubs.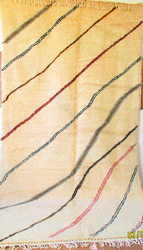 MOROCCAN BERBER AZILAL CARPET. Azilal is a small town in the foothills of the eastern section of the High Atlas Mountains and acts as a gathering point for rugs from the hundreds of surrounding villages and hamlets. This lustrous peice is woven with local Berber hand spun wools and has a sumptuous ivory bachground. The design is a simplistic portrayal of several streams and rivers which dot the region. Reference 3165. Size 290 x 160 cms., or 9ft. 6ins. x 5ft. 4ins. Euros 1050.
ANTIQUE KURDISTAN LONG RUG circa 1900. The warps and wefts are of fine two ply hand spun wool and this allows for a very fine knot density, weight and durability and fineness of design. The colour palette is rich and varied and the rug when ruckled displays a deep sheen. The condition is excellent and the only loss is of a few rows of knots in the bottom border which has been properly secured. The top border still has its embroidered kilim end. There is extensive use of natural camel hair in the borders and some designs. This is an outstanding long rug. Reference 2962. Size 418 x 95 cms., or 13ft. 8ins. x 3ft. Euros 1450.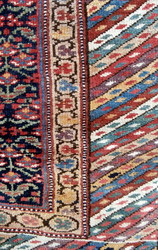 CLOSE UP OF THE THREE MAIN DESIGN ELEMENTS. The repeated floral forms of the central field are surrounded by a minor border of camel hair. The main border is of fine diagonal stripes in many colours and may have been influenced by the neighbouring Caucasian rugs of Azerbaijan.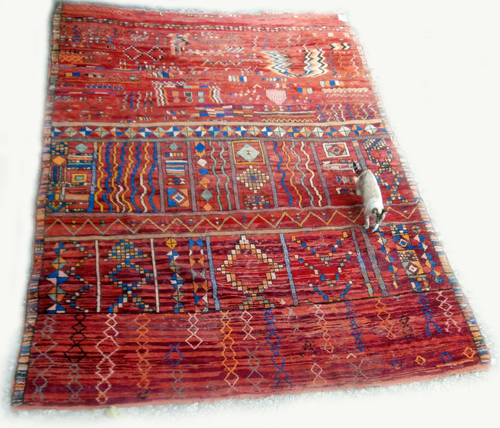 DOUBLE SIDED MOROCCAN BERBER CARPET of very rare extra large size and originating from the Berbers of the region of Boujad in the Middle Atlas. Even allowing for the randomised, spontaneous designs found in Berber weavings those from Boujad are regarded often as eccentric. I know of no other double sided Berber carpet of these proportions. A wonderful piece. Reference 3066. Size 410 x 300 cms., or 13ft. 6ins. x 10ft. Euros 2850.