OLD ORIENTAL CARPET
HOME PAGE
WELCOME TO OLD ORIENTAL CARPET.
I am Lloyd Rowcroft. I specialise in hand woven rugs, kilims, textiles and artifacts from Central Asia, the Mediterranean and North Africa. My adopted home since 1994 is southern Spain and I have many collectors, enthusiasts and institutions among 650 or so customers who are spread through 38 countries.
Morocco is only a 35 minute ferry ride away and this enables me to make frequent visits to find the older and more interesting rugs, textiles and artifacts.

I also appraise, value and restore most types of hand woven rugs.

If you have any questions or need advice please contact me. Advice and information are always free.
Tel. (34) 617 861 520.
email, ldrowcroft@gmail.com.
Website, www.oldorientalcarpet.com.
facebook, Moroccan Carpets.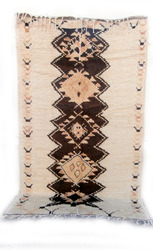 HIGH ATLAS BERBER RUG from the Eastern High Atlas. Best quality local undyed wool has a silky, lustrous sheen. See "Medium Rugs, page 1." for details.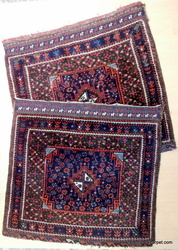 RARE PAIR OF ANTIQUE BALOUCH BAG FACES from the Balouch of Khorrasan in north east Persia. See "Tribal Bags, page 1" for details.
WE BUY MOST OF OUR MOROCCAN RUGS DIRECTLY FROM THE BAZAARS AND RURAL AREAS ON FREQUENT BUYING TRIPS. WE BOUGHT THIS FINE BENI OURAIN CARPET WHICH IS NOW ON OUR WEBSITE UNDER "LARGE CARPETS Page 1".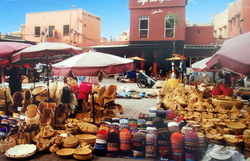 MANY OF OUR BASKETS, CERAMIC POTS, PANS AND DECORATIVE ITEMS ARE FOUND AT SOURCE IN THE STREET MARKETS IN MOROCCO.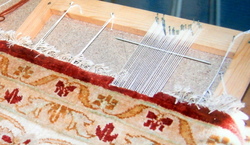 WE RESTORE HAND WOVEN RUGS -- But only if the restoration is justifiable. All examination, identification, appraisal and advice is free.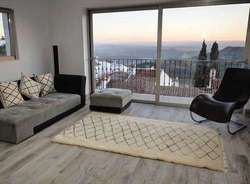 A SIMPLE UNDYED BENI OURAIN RUG FROM BERBERS IN THE MIDDLE ATLAS OF MOROCCO BRINGS ALL THE UNDERSTATED PIECES IN THIS ROOM TOGETHER.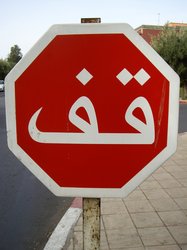 DO NOT LET THE SIGN STOP YOU - LOOK THROUGH OUR WEBSITES AND FIND FASCINATING UNIQUE PIECES FOR YOUR STYLISH HOME.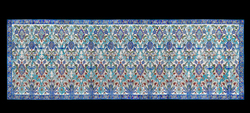 HERE IS A PANEL OF 221 INDIVIDUAL UNDERGLAZED CERAMIC TILES FROM THE SAME STUDIO OF AZIM CINI IN KUTAHYA, ALSO CIRCA 1950, WHICH WE HAVE. IT MEASURES 480 X 160 CMS., OR 15FT. 9INS. X 5FT. 3INS. AND IS PART OF OUR COLLECTION OF OLD CERAMIC WORK. PLEASE SEE "ANTIQUE ITEMS PAGE 1" FOR DETAILS.
THIS IS THE INSIDE OF THE MAIN MOSQUE IN THE AMERICAN CAPITAL, WASHINGTON, DC. THE CERAMIC TILE PANEL WAS MADE OF HUNDREDS OF INDIVIDUAL CERAMIC TILES AT THE FABRIKA IN THE WESTERN TURKISH TOWN OF KUTAHYA BY THE MASTER CERAMACIST, AZIM CINI, CIRCA 1950.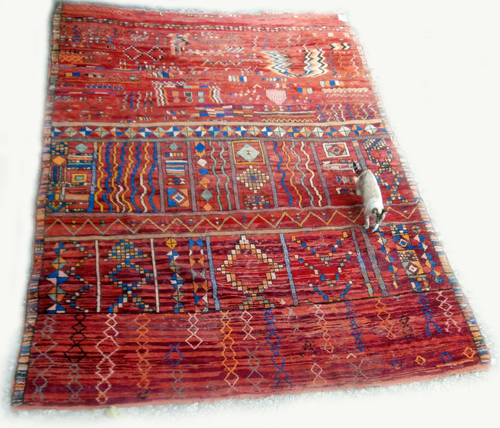 DOUBLE SIDED MOROCCAN BERBER CARPET of very rare extra large size and originating from the Berbers of the region of Boujad in the Middle Atlas. Size 410 x 300 cms., or 13ft. 6ins. x 10ft. See "Large Carpets, page 2" for details.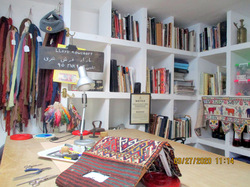 OUR RESTORATION STUDIO with an old Kurdish bag from Quchan in north east Persia ready for re-weaving an area of the torn kilim backing.