OLD ORIENTAL CARPET
HOME. MOROCCAN RUGS AND TEXTILES - WELCOME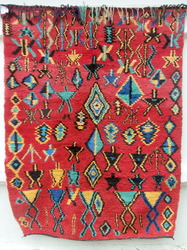 MOROCCAN BERBER HIGH ATLAS RUG. A bright, colourful rug with a random scattering of Berber designs and motifs throughout the field. The colours are a deliberate contrast to the endless browns and greys of the eastern High Atlas. FOR SIMILAR SIZE PIECES SEE "SMALL RUGS".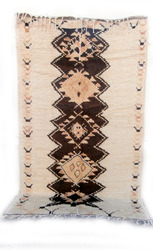 MOROCCAN HIGH ATLAS BERBER RUG A gifted weaver has created an almost 3 dimensional look by contrasting central medallions of deep charcoal with lustrous undyed white wool in the field. There is minor use of a very light apricot highlight. This rug is from the region of Azilal in the foothills of the High Atlas, east of Marrakech. FOR SIMILAR SIZE PIECES SEE "MEDIUM RUGS 1" AND "MEDIUM RUGS 2"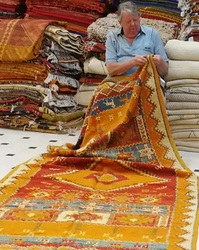 MOROCCAN HIGH ATLAS BERBER CARPET, an old and rare piece in excellent condition which is from the Ait Tamassine Berber group. The weaver has included in her random designs depictions of traditional Berber symbols representing the natural world around her. Thus we have sheep, the flowers they graze on, paths, mountain ranges and the often portrayed superstitious motifs. Four primitive keys are also shown and are a reference to the storage of moderate wealth hidden away. Fascinating, and a rare pleasure to own. There is good information on the Ait Tamassine and other High Atlas Berber tribes in the excellent book "Taznacht" which resulted from extensive research there in the 1990·s. Reference 2767. Size 310 x 145 cms., or 10ft. 2ins x 4ft. 9ins. FOR MORE CARPETS OF THIS SIZE SEE "LARGE AND XL CARPETS" 1 AND 2.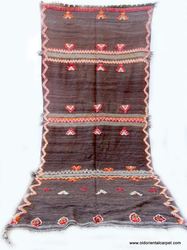 MOROCCAN BERBER HIGH ATLAS FLAT WEAVE OR HANBEL. Hanbel is the term used to describe this type of flat weave or kilim and which has sections of knotted pile and various techniques of embroidered bands across the width. They are the versatile weavings of rural Berbers and are used as floor covers, curtains and covers for piles of storage bags. This beautiful piece is from the High Atlas south of Marrakech. FOR MORE KILIMS AND FLAT WEAVES SEE "KILIMS 1" AND "KILIMS 2"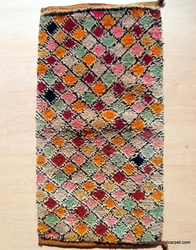 MOROCCAN BERBER MIDDLE ATLAS BAG / CUSHION. This type of weaving is often used as a pillow at night and cushion during the day by Berbers in their rural dwellings. There is an opening along one of the long edges wide enough to permit a hand to insert a stuffing. For more pieces like this please see the "BAGS/ARTIFACTS" pages 1, 2, 3 and 4.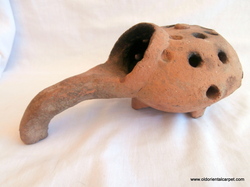 MOROCCAN BERBER ARTIFACT. This old, smoke blackened, well used artifact is a hand held chimney. When Berbers in the High Atlas steal honey they light a fire in the bowl, put it in the nest and force the bees out. For more examples of artifacts please see the "OTHER ARTIFACTS" page.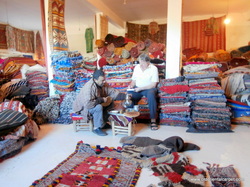 BREAD AND TEA PRECEDES EVERY DISCUSSION. Buying rugs from a Berber in the High Atlas mountains. I travel through Morocco frequently and buy direct.